Homeschool Achievement Day was last Saturday at our church. I signed the Crafter up for her first piano performance and to present an astronomy project from Exploring Creation with Astronomy. I thought we had taken more pictures, but we ended up with only a few. So stupid me thought we should type up her narrations from each lesson. Then we couldn't find them, so the Crafter and I spent 2 solid days reconstructing narrations from all 14 lessons. This was our first experience with a project deadline. Thank God we homeschool. The Historian did not like us working so hard on it. He kept telling us that we should have started earlier. I don't think this family could survive regular school.
To make matters more complicated, my parents and grandmother and the Historian's father were all coming too. So there was all of the emergency house cleaning to do. The Crafter and I worked frantically to finish the project, vacuum, dust, clean the kitchen, hang out laundry, and clean the bathrooms while the Historian kept up with Wild Thing and Sweetie. We had Chinese take-out for lunch which simplified things greatly.
All in all the visit went well. I drove the van with the children. My parents and grandmother followed me and the Historian and his dad went in the truck. When we got to church, I was informed that my brake lights weren't working. We couldn't do anything about it on a Saturday afternoon, so we went in and set up the astronomy project. The Crafter played her pieces very well during the music recitals. Everything was nice until intermission when Sweetie wet her pants. Fortunately, God told me to pick up a pair of extra shorts before we left. That's the only reason I had them. When Achievement Day was over, we all said our goodbyes and went our separate ways. The Historian took Wild Thing and the Crafter roller skating. I went home with Sweetie in the van with no brake lights. We made it home safely, but the van saga was just beginning...
Here are some pictures from the Crafter's project: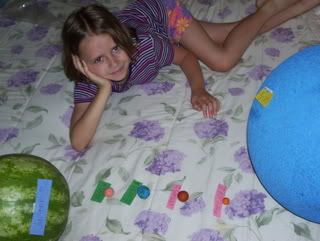 This is the solar system model. Jupiter is a watermelon.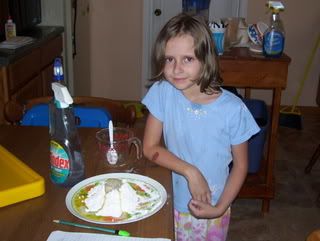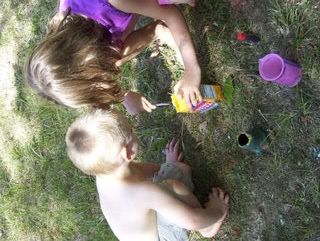 Preparing for t
he eruption of Olympus Mons.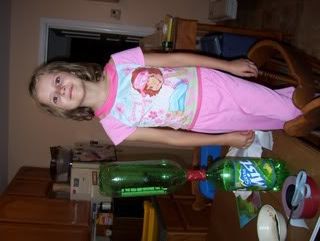 Hurricane tube from the Jupiter lesson.