The Crafter turned 10 last month, right in the middle of the Historian's 19 day work-a-thon. There was no way to get a party together for her close to her actual birthday. The Crafter also wanted to have a BIG party since she didn't have one last year.
Soon, October came upon us and still, there was no party. We searched the calendar for a date that wouldn't conflict with other activities. We settled on October 17. The Crafter made lovely invitations to coordinate with a panda theme. She got the idea for a panda cake from the
Betty Crocker web site
. We searched the internet for Chinese inspired crafts that were fun. We shopped the local craft stores for fancy origami paper.
The cake was an adventure. The Betty Crocker web site provided good instructions, but they didn't warn me about the pitfalls. I will never again attempt to decorate a cake with store-bought icing. It was like the icing was tape that pulled off outer layer of cake. It turned out OK. I did utter some words not fit for children to hear in the process though.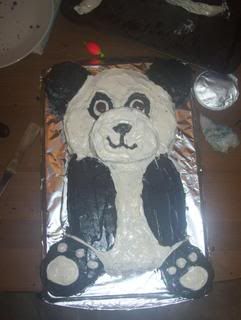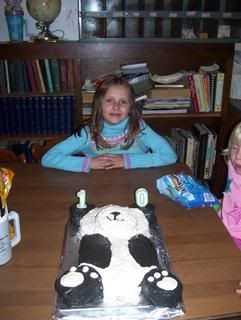 Eleven girls and one boy (the little boy I keep a few afternoons a week) were invited. Two girls came, and they had a ball. They ended up playing badminton most of the allotted party time. They called home to ask to stay longer (YES!). The Crafter received craft supplies and a lava lamp as gifts.